Congratulations to YOUFA Chairman Li Maojin for winning the top ten economic leaders in 2018 in Jinghai District, Tianjin
Share
Issue Time

2019-03-12
Summary
YOUFA Chairman Li Maojin for winning the top ten economic leaders in 2018
Congratulations to YOUFA Chairman Li Maojin for winning the top ten economic leaders in 2018 in Tianjin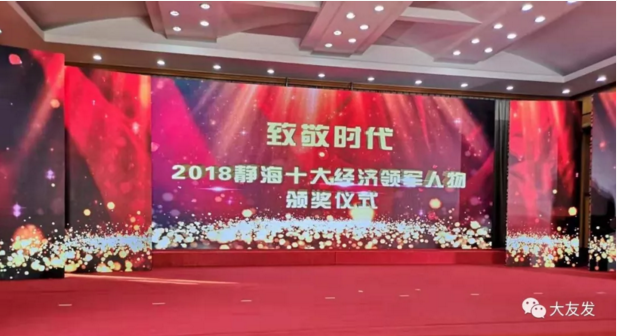 On March 8th, the awarding ceremony of the "Total Age – The Top Ten Leaders of Jinghai Economy" hosted by the CPC Jinghai District Committee and the District People's Government, and the Publicity Department of the District Party Committee and the Jinghai District News Center kicked off at the Jinghai District Convention Center. District Party Secretary Qi Xuefeng awarded certificates and trophies to entrepreneurs who were awarded the title of the top ten economic leaders. Ten entrepreneurs such as Li Maojin, chairman of Youfa Steel Group, won the award.
"He has the toughness of steel, strategizing, driving the aircraft carrier of 10 million tons of steel pipe manufacturing, leading Jinghai private enterprises to the world!"
This is the awarding comment given by the judging panel to Li Maojin, chairman of Youfa Steel Group. From the production line to marketing management, he relies on wisdom, tenacity and persistence to get out of the road of independent innovation. In the past 31 years, it has experienced the hammering of the market and the baptism of the Asian financial crisis, which has made the rapid rise of the Friendship Group. At present, the Group's welded steel pipes are spread all over the country and exported to 76 countries and regions on five continents. It has become the head of the only 10 million-ton welded steel pipe manufacturing enterprise in China and the world. Li Maojin is promoting the economic development and leading of Jinghai District. The welded steel pipe industry has made outstanding contributions.