YOUFA STEEL PIPE GROUP ON ITS NINETEENTH ANNIVERSARY
Share
Issue Time

2019-07-18
Summary
YOUFA STEEL PIPE GROUP ON ITS NINETEENTH ANNIVERSARY
Nineteen years of Youfa, a hundred years of brave struggle dream! On the afternoon of July 8, amid warm applause, the Nineteenth Anniversary Congress of Youfa Steel Pipe Group was solemnly held in YifanFengshun Hotel. Leaders of Youfa Group Chairman Li Maojin, General Manager Chen Guangling, and other leaders, nearly 220 people in various enterprises, participated in the commemorative meeting. The memorial meeting was presided over by General Manager Chen Guangling.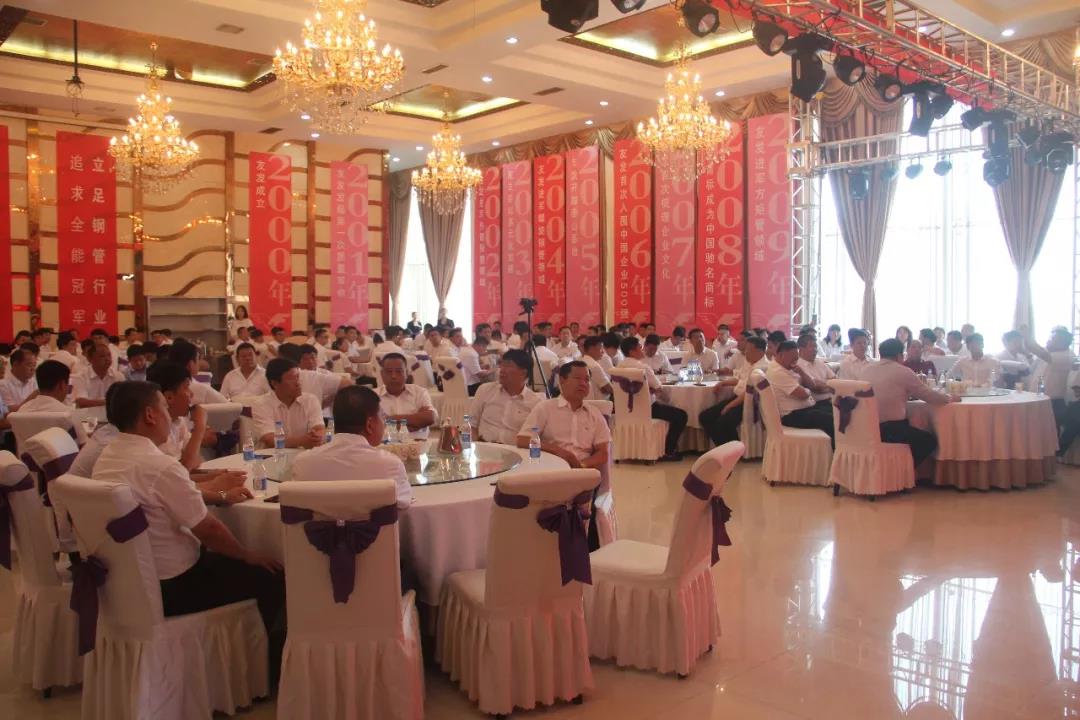 Li Maojin, chairman of Youfa Steel Pipe, delivered an important speech at the commemorative meeting. Firstly, he told the participants five wonderful stories: "interviews with departing shareholders", "data on delisting of listed companies", "Huawei from 10 billion to 100 billion", "100-year-old life", "collective flow of special forces". He explained five points of view to everyone: 1. Cooperation is the root of Youfa Steel Pipe 'achievements today, and also the key of Youfa sustainable development in the future. Youfa development team should actively carry forward Youfa culture, adhere to Youfa Development Bottom Line, and "let internal everyone who leaves Youfa Steel Pipe said Youfa good", and be good at solving external crisis in time, rather suffer losses, not to lose faith in customers; 2. Youfa listing, whether successful or not, is a new starting point for Youfa Steel Pipe Development. In the long history of Youfa hundreds year development plan, this is only one of the small milestones. We should adhere to the concept of development, keep forging ahead, create more opportunities and achieve more partners. 3. Compared with the development of Youfa in the next 10 years, all the achievements of the past 20 years are not worth mentioning. In the future, we still have a lot to do. Only unexpectedly, don't say anything impossible; 4. Every Youfa people should dispel the idea of selling stocks to go home for pleasure, find his own position, "Happy work, healthy life", and constantly self-cultivation in his work, in order to achieve life improvement; 5. Every cadre, you are not only responsible for yourself, but also need to be responsible for the team, to let go of your complaints and selfishness, to maintain a high degree of unity with the team, and to play the role of the team to the utmost, is the foundation of our success.
Subsequently, in his speech, Chairman Li Maojin made several requests to the participants of Youfa Professional Training and Marketing Class. 1. Cherish opportunities and learn to improve; 2. Understand Youfa'culture and develop Youfa spirit; 3. Be good at thinking and exploring; 4. Attitude decides everything.
Finally, Chairman Li Maojin proposed that Youfa should always maintain a healthy and sustainable development in the future development process. In order to achieve this goal, we need to do a lot more. He emphasized that "a person can walk fast, a group of people can go far"!
Chairman Li Maojin's impassioned speech encouraged all the participants, and these view made everyone feel more confident than ever before!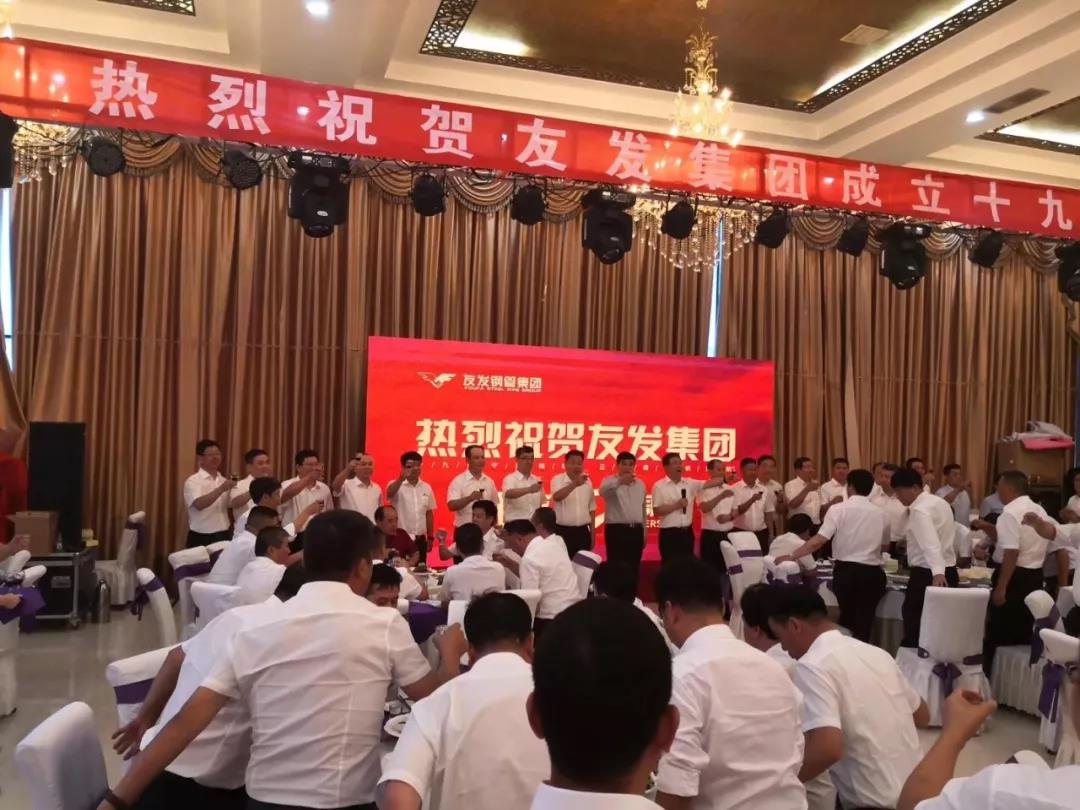 At the following dinner, Mr. Chen Guangling, General Manager of Youfa Steel Pipe, delivered a toast. He said that Youfa has achieved excellent business results in the past 19 years, but we should not be proud and complacent. Instead, we should face up to shortcomings, make continuous improvements and make a dash for higher goals.
Finally, chairman Li Maojin, general manager Chen Guangling and other leaders of Youfa Group, the general managers of the enterprises came to the stage together to toast the participants. The banquet hall was filled with the celebration atmosphere of the nineteenth anniversary of Youfa Group. All participants cheered with wine and jointly celebrated the nineteenth anniversary of Youfa Steel Pipe Group!